Rod Packings Seals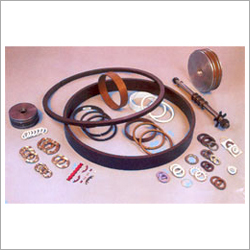 Rod Packings Seals
Product Description
We have carved a niche in the market as a manufacturer, exporter and supplier of Rod Packings And Seals. We offer these piston products depending on their applications and clients' requirements. The Rod Packings And Seals have vital role in the production of lubricated and non-lubricated compressors. The salient features of our products include their long operating life, minimum bypass and standard quality. These piston products have been fabricated under the supervision of skilled technocrats by utilizing latest manufacturing technique.
Specifications:

Available in different grades of metals and thermoplastics as per the requirements & applications.
Perfect for lubricated as well as non-lubricated compressors.
Also available according to clients' specifications.
Metallurgy as per application to assure maximal life of the parts.
Non-lubricated packing rings - Full Floating, Self-Lubricated Rings, sealing of the piston rod with no metal-to-metal contact.
Long operating life & minimal bypass.
No adjustments needed on the rings.