Piston Rods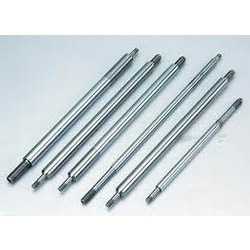 Piston Rods
Product Description
We are an eminent manufacturer, exporter and supplier of Piston Rods. Available in different sizes and patterns, these heat treated Piston Rods are notable for their mechanical properties and durable nature. These rods have significant part in increasing the service life of oil scrapper rings and packing rings. As part of our transparent working system, we have conducted different tests like magnaflux and ultrasonic to measure their flawless nature before offering these to our clients. Our uncompromising attitude regarding observation of industry set standard has earned us wide acknowledgment in the market.
Specifications:

Heat treated according to specifications, so as to match the mechanical properties.
Fine threads with close pitch to assure better clearance and locking adjustments.
Ground to close finish, help increase the life of packing rings and scrapper rings.
Non-destructive tests like ultrasonic and magnaflux are done to guarantee the quality of the rod.
Technical Details:

For different models different size of Piston Rods are available.
Heat treated Piston Rods as per the specification to meet good tensile strength and mechanical properties.
Close finish and increased life of Oil Scrapper Rings and Packing Rings.
Plasma Coated Piston Rods are also provided as per specification & requirement of clients.
Come with fine threads and close pitch on both the end of Piston Rod to insure better looking as well as bottom / top clearance.