Piston Rings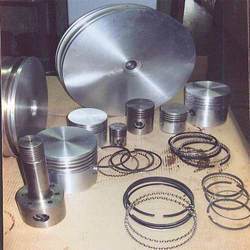 Piston Rings
Product Description
We have achieved wide recognition in the market as a renowned manufacturer, exporter and supplier of Piston Rings. These rings have wide applications in petrochemical sector and are considered as significant part of process compressors. The lubricated form of these Piston Rings is available with 45 degree angle cut. The non-lubricated forms of these rings are available with carbon filled PTFE, bronze filled PTFE and thermoplastics. The unloader variant of our rings are obtainable in glass filled PTFE and bronze metallic rings.
Further Details:
Design and manufacturing excellence are the watchwords at our company. Both are necessary to provide effective piston rings. We offer a comprehensive line of rings & materials for all kinds of service and application. Understanding of the dynamics of process compressors is well established so as to offer piston rings that work perfectly in the petrochemical industry. We keep up with a thorough analysis of operating conditions as well as compressor status assessment. As a result, we offer piston rings to suit your particular application. This also ensures that the best ring life will be acquired for all service types.
Specifications:

These rings are available ready stock in diverse grades.
In order to lubricate the compressor, we have glass filled PTFE Piston ring and iron piston ring having 45degree Angle cut .
Piston rings are known for its roundness, long life and offered as per the application need.
Our Wearing Rings (Guide Rings) and Piston Rings are available with Bronze filled PTFE, carbon filled PTFE, and thermoplastics for Non lubricated unit.
Our Unloader piston rings are offered in Bronze Metallic rings and glass filled PTFE .
We deliver different types of Piston and Guide Rings with PTFE, thermoplastic and MOC cast iron, in various sizes according to the specifications, sample, drawings, offered by clients.