Compressor Piston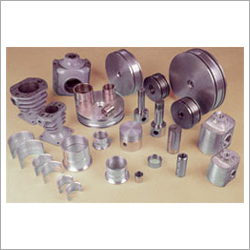 Compressor Piston
Product Description
We are reckoned as a distinguished manufacturer, exporter and supplier of Compressor Pistons. Made from high quality cat iron and aluminum alloy, the Compressor Pistons is available both in lubricated and non lubricated forms. This piston has wide applications in steel industry, oil and gas industries, chemical sector, food and beverage industries, polymer production unit and industrial gas industry. As a reliable organization, we thoroughly check its standard quality before its delivery in the market. We are also reckoned for our timely delivery of products.
Further Details:

Acquirable in aluminum alloys & cast iron
Done with non-destructive test to ensure the quality
Non-lubricated and lubricated pistons
Air Compressor Valves: We fabricate various types of valves like Concentric Ring Valves, Reed Valves and Channel Valves. These valves offer great efficiency with minimal horse power. Both lubricated and non-lubricated versions of valves are available.